OmshantiMandiram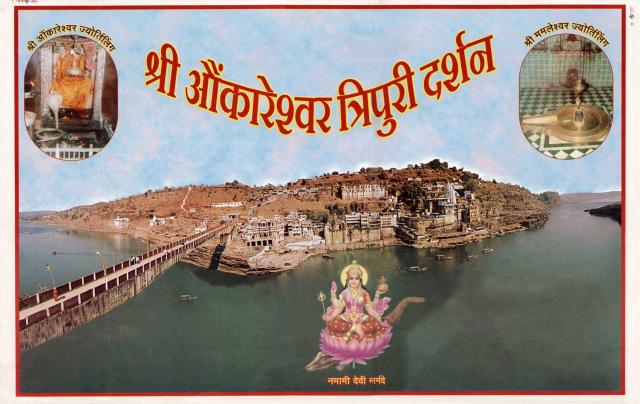 The Past, Present and Future

of Omkara Mandhata

Omkara Mandhata - Omkareshvara
Also spelled: Omkareshwar - Omkareshvar

"The Most Sacred of the Sacred Sites symbolizing the sacred symbol OM".

3 Holy Cities - Shiva Puri, Vishnu Puri, Brahma Puri

This drawing of the island is displayed in the entrance way to the Temple Trust office.  It is only an artist drawing providing an illusion of OM, unlike a real image that reveals the hillsides that actually creates the illusion of OM, see satellite images.
Omkareshvar, also known as Mandhata Omkareshvar is a holy island shaped like the sacred symbol "OM".  The rivers Narmada and Kaveri converge together forming the island Omkara Mandhata.  Nature blessed this island with two hillside ranges that reveal the sacred symbol "OM", visable only from above. The island is located 77km south of Indore in Madhya Pradesh, India.  It draws thousands of devotees daily to one of 12 Jyotirlinga shrines of Shiva.
Poster of Omkareshvar before construction of dam

The construction of a dam is the future.